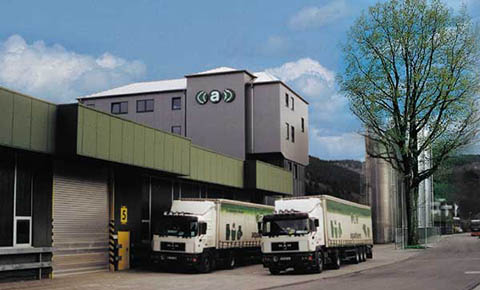 40 YEARS OF CONTINUOUS DEVELOPMENT
1973
Founding of aquatherm by Gerhard Rosenberg
1978
Transfer to the first factory in Biggen / D-Attendorn
1992
Founding of the branch in Radeberg near D-Dresden
1996
Founding of the metal processing company aquatherm metal,D-Attendorn
1998
Founding of a subsidiary in Carrara / Italy
1999
Completion of the main site in D-Attendorn as one complex (Factories 1+2, Production and Store,Laboratory and Training Centre)
2001
Completion of the extension Factory 2 in D-Attendorn. Opening of the new training centre in D-Radeberg
2002
Completion of the logistics centre in D-Attendorn
2003
Completion of rebuilding and finishing of the training centre in D-Attendorn 30 year celebration of the company aquatherm
2005
Adding of 2 storeys on the administration building
2005/06
Completion of the 4-storey hall on the premises in Attendorn
2008/09
Aquisition of the former storehouse of the forwarding agent Kost, which also accomodates the room of the plant maintenace.
2009
Opening of the new expertise centre for technical application.
2003
40 year celebration of the company aquatherm

aquatherm GmbH
aquatherm is a world-wide successful manufacturer of plastic pipe systems for potable water application, climate technology and for the heating sector.
aquatherm was founded 1973 for the development, production and installation of hot-water underfloor heating. At that time aquatherm was one of the three first suppliers of underfloor heating on the European market.
In 1980 aquatherm developed the plastic pipe system fusiotherm® from polypropylene for sanitary and heating installations. Up to now this innovation is the foundation stone for a steady growth.
The total workforce at all sites numbers about 500. Each day well over 145 kilometres of pipe and 280,000 fittings are produced, stored and dispatched.
The aquatherm-pipe systems are produced 24 hours everyday at 6 days a week to meet the constantly increasing demands at home and abroad and to guarantee impeccable and punctual delivery.
Today, aquatherm is a globally acting company, present in 75 countries of the world, undisputed market leader in many fields and last but not least a flexible middle-sized company, which is able to compete with big groups.
Aquatherm is the global leader in PP-R pressure piping for potable, heating and cooling, and greywater applications. Aquatherm products are widely recognized by both experts and consumers around the world as one of the safest and most permanent potable water systems available. Aquatherm's Climatherm was developed for applications outside the potable water installation and includes all the advantages of Aquatherm Fusiotherm but is engineered for chilled water, hydronic heating, and industrial applications. Aquatherm Lilac is specifically designed for rainwater and greywater distribution, making it an essential part of any water conservation system.